ICF World Cup 2022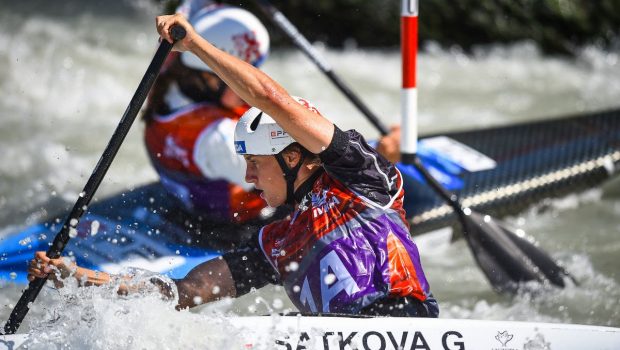 Published on July 6th, 2022 | by Paddleworld
Czechs flex muscles on opening day of world titles in Italy
The 2022 ICF Junior and U23 Canoe Slalom World Championships in Ivrea, Italy, kicked off with team events and the traditionally strongest teams once again showed their excellence. Czech Republic repeated last year's success with four gold medals.
Last year's ICF Junior and U23 Canoe Slalom World Championships was held in Ljubljana where the Czech Republic dominated the team events with four gold medals and three silvers. One year on, they again hit the top podium position in four team events, but did not manage to get any of the other medals in the remaining four team finals.
It was the women's part of the Czech team that showed the power on the Dora Baltea River. Antonie Galuškova, Gabriela Satkova and Lucie Nesnidalova took the first gold medal of the day after a penalty free run in the women's kayak U23 event. Germany took silver and France the bronze medal. Czech youngsters Klara Kneblova, Katerina Svehlova and Olga Samkova were the fastest in the women's junior kayak event, finishing the race ahead of Slovakia and Spain.
The dominance of Czech paddlers continued in the afternoon in the women's canoe events, both in U23 and junior age groups. Gabriela Satkova, Eva Rihova and Tereza Kneblova were crowned U23 canoe world champions, while their teammates Klara Kneblova, Adriana Morenova and Olga Samkova took gold inthe junior canoe event. Italy and Great Britain won silver and bronze medals in the U23 women's canoe event, while teams of Germany and Slovakia joined Czech Republic on the podium in junior C1 team event.
Host nation Italy was thrilled after the men's U23 kayak event, where Leonardo Grimandi, Davide Ghisetti and Giacomo Barzon won a tight final just 0.29 seconds ahead of the Spanish team. France won the bronze medal. The junior men's kayak event was won by Slovaks Ondrej Macus, Richard Rumansky and Filip Stank. France was second and Great Britain third.
In men's canoe team events gold medals went to France and Spain. French canoeists Mewen Debliquy, Jules Bernardet and Adrien Fischer were the best in the U23 event, where they had more than 12 seconds faster time than any other team. Poland was second, and Slovenia – the defending champion – was third. Markel Imaz, Marc Vicente and Alex Segura were the best in men's canoe junior team race. France was second and Germany third.
On Wednesday, the 2022 ICF Junior and U23 Canoe Slalom World Championships continues with U23 heats.