ICF News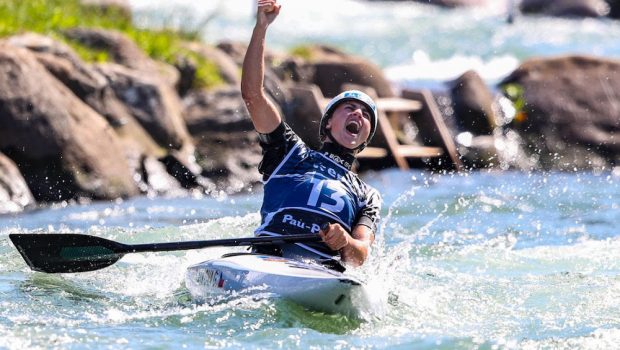 Published on August 31st, 2022 | by Paddleworld
De Coster wins his first gold of his career and Fox's fourth gold of the season – ICF News
A weekend of surprise canoe slalom results continued in Pau, France, on Sunday, with Czech Gabriela Satkova winning her first ever ICF world cup gold and 2016 Olympic gold medalist Denis Gargaud Chanut finding his way to the top of the podium again.
Australia's Jessica Fox adding an extreme kayak gold to her K1 title, and Frenchman Boris Neveu taking the men's extreme final.
Czech canoe slalom paddler Gabriela Satkova won her first World Cup medal in Sunday's final in Pau, and at the end it was the gold medal. She produced a superb fast final run, without any penalties. She was already the fastest in the semifinal and she kept this position at the end of the race.
Satkova, whose biggest individual success is the 2020 Senior European title in women's C1, was happy with her performances.
« It is different when someone races at home or abroad," she said.
"Here it means so much to me. This is my favourite course. I was starting from the last position and I finished first anyway. I was really pushing hard and I think the run was very good.
« I am proud of one left upstream gate, I don't know the number, it was somewhere around ten. It was really good. I did not mean to be so tight there. I was scared I would touch it, but at the end it was really fast. »
17-year-old Slovak Zuzana Pankova also found herself on a world cup podium for the first time, winning silver. She was 4.40 seconds behind Satkova. Jessica Fox from Australia finished in third place, adding bronze to her Saturday's gold in kayak final.
By contrast the men's canoe podium was much more experienced. Two Olympic, world and European champions and world championship medallists were the fastest in the final. Local favourite Denis Gargaud Chanut won for the second consecutive time at World Cup in Pau, after also winning in 2021.
The Marseille-born canoeist who moved to Pau to train at this course enjoyed the support.
« It's always a pleasure to win at home, because my family, my children are here to support me," he said.
"It is always a pleasure that it is shared. Now I need to recover a bit and focus on the last World Cup. »
When Gargaud Chanut crossed the finish line and took the leading position he did not expect to win the race. He thought it might be enough for the medal, but not the gold.
« At the end I am the winner, but I believe the time could be better," he said.
"Not only mine, but of others too. There were some mistakes. It was a pretty hard course, with a hard design. But you never know, sometimes it is good enough, and you don't know what the fastest time will be. When I crossed the line I was happy, because I finally succeeded to make a good run. »
Only 0.08 seconds divided Gargaud Chanut and Luka Bozic from Slovenia in second place. The Tokyo Olympic champion Benjamin Savsek, also from Slovenia, was third.
The same three canoeists were on the podium also in the 2021 edition of the World Cup in Pau, but the order was slightly different. Gargaud Chanut won, Savsek was second last year, while Bozic took bronze medal.
In the afternoon's extreme slalom, two-time world champion Jessica Fox from Australia won the women's event, finishing the weekend with a total of three medals, two golds in kayak slalom and extreme slalom and a bronze in Sunday's canoe final. Slovenia celebrated silver and bronze medal thanks to Eva Terčelj and Ajda Novak.
In men's extreme slalom final France's Boris Neveu won his third extreme slalom World Cup medal, and his second gold. Giovanni De Gennaro from Italy was second and Pedro Goncalves from Brazil third.
The ICF Canoe Slalom World Cup series now moves to La Seu d'Urgell, Spain, where next weekend athletes will compete in the 2022 World Cup final.