Sea kayaking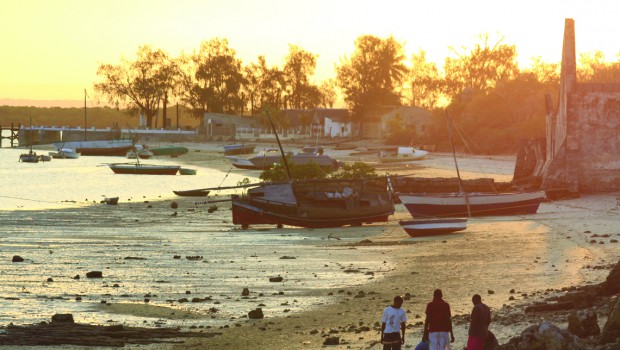 Published on September 24th, 2013 | by Paddleworld
} else { ?>
0
Discover: Sea Kayaking the Quirimbas (Mozambique)
Ibo Island Dreaming
Off the east coast of Africa lies a string of islands that time forgot. Small, tradition-bound fishing villages, simple dhow sailboats, and perfect blue sea water, this is the Quirimbas. South African paddlers Andrew and Marie-Louise Kellett traveled to this sleepy archipelago along the northern coastline of Mozambique to find a paddling destination that is rich with history, bathed in sublime beauty, and primed for easy living.
The view from the aircraft was quintessential tropical island—turquoise seas with darker ribbons of indigo where the deeper channels cut through, mangrove forests, dhows sailing with the gentle trade winds, and islands dotted with small settlements. The plane banked in for a landing on the grass strip. The Ibo Island Lodge Land Rover was waiting for us at the 'terminal'—a roofless shell, proudly marked "Ibo."
Ibo is one of those rare and special places that linger in your imagination long after you have left. It has a history of Portuguese occupation, trade routes, conflict and torture, but when you visit now, only the ghost of what used to be remains. The long abandoned but beautiful colonial buildings and the three forts that dot the island give clues to its past. Ibo has been sleeping and dreaming for the last century, but is slowly waking to a new vision of the future. Tourism is gradually coming to the area, thankfully in a low key and responsible form. Ibo Island has a backpackers lodge, a bicycle hire shop, the upmarket Ibo Island Lodge, and not much more. We were hosted at the Ibo Island Lodge—two renovated villas on the seafront with airy rooms, high ceilings, and chalky lime washed walls. Furnished with a mixture of new and old colonial style furniture, much of it hand carved, the emphasis is on elegant simplicity.
Traditional sailing dhows are the main mode of transport in this area. These ancient craft have been plying the regional waters since time immemorial. The first Arab traders are thought to have made contact with the islanders in about 600AD, and their influence can be seen to this day in the faces of the local people as well as in their religion—most are Muslim. The dhows range in size from tiny one-man fishing boats with outriggers, to large, sturdy ships that can carry upwards of twenty people. A dhow supported paddling trip allows you to carry more gear and also to opt out of paddling if the weather turns.
Leaving the Ibo Island Lodge to begin our paddling adventure, we drove out toward a sand island that appears only at low tide and saw our dhow, Vagabundo, at anchor just off the sandbank. Sandbars are a feature of the area, forming linkages between the islands and the mainland at low tide. The turquoise waters were so inviting that we had to have a swim before sitting down to breakfast. We collected shells to decorate the table and this became a pre-meal ritual for the rest of the trip. Our first paddle entailed a two-hour crossing to the mainland. The wind was behind us, the sun was warm. A massive sting ray swam nearby, and we were privileged to see a large group of crab plovers wheeling over us as we pulled into camp around lunch time.
Situated at the mouth of a river, our camp sat beneath banks cloaked in lush mangrove forest. Children from the local village provided a smiling welcome and we provided them with ample entertainment until they disappeared back home for Madressa (Islamic School) and dinner. A walk around the village at sunset revealed a way of life that has been going on for centuries, a simple subsistence existence based on fishing and trading, quite a contrast with our hectic western lifestyles. The people were friendly and happy to be photographed, examining the results with amazement. Sadly, there was evidence of large scale and likely unsustainable harvesting of cowrie shells—huge bags, filled to the brim and waiting to be picked up by traders. Think about this the next time you consider buying that pair of sandals or ornament decorated with cowries!
We had an early start the next morning, exploring some of the largest mangrove forests in the southern hemisphere before paddling out to open water, and our next destination. This ocean leg was a long one, so we hopped onto the dhow, pulling into Mogundula Island late in the afternoon. The sea was that perfect tropical blue, prompting us to leap in and swim the last section.
Mogandula is part of the designated Quririmbas National Park and has no permanent inhabitants. Local people suffering from elephantiasis were sent here to prevent the spread of the disease and a few graves can still be seen.
It is also known as the island of the scared lake due to an amazing sea water lake situated in the centre of the island. Somehow the sea water filters through the porous coral rock and fills the depression at the island's centre. The interesting thing is that the lake fills on the outgoing tide and empties with the incoming tide! A beautiful soft sand beach offered a view to a coral sandbar just an easy swim away, so our dinner table boasted an impressive shell collection that evening. We spent two nights here with a simple, perfect routine. Morning was spent snorkeling, followed by a siesta, and then perhaps a paddle around the island, returning in time for a hot shower before an amazing spread of prawns, calamari, crab and octopus.
An early departure on the dhow saw us sadly leaving our island paradise and heading to the mainland for the road transfer back to Pemba and our flight home. The four hour drive took us through the terrestrial part of the Quirimbas National Park—a landscape of woodlands, rural villages and amazing granite inselbergs that are centers of plant endemism. Eventually we hit the tar and headed back in civilization.
The Quririmbas Archipelago is sea kayaking heaven, an unexplored paradise of warm water, beautiful sea life, amazing people and interesting culture and history. Journey in style with a fully catered and equipped dhow for support, or bring in your own kayak and supplies and rough it with the locals. This is one of places that time forgot and you'll feel like you've been away for weeks even after a few days.
INFO BOX
How to get there: The Quirimbas are a string of small islands scattered along the coastline of northern Mozambique. The regional capital, Pemba, is the gateway to this little known destination.
When to go: November to April has generally more rainfall. May through October is drier. Temperatures are warm year-round. What are the Quirimbas? There are around thirty islands in the archipelago, strung out over an area of about 100 kilometers, roughly parallel with the coast. While some islands are occupied by local subsistence fishing communities, many are uninhabited. Eleven of the southerly islands are part of a designated national park and parts are destined for Unesco World Heritage status. Language: A basic knowledge of Portugese will be helpful as little English is spoken.
Food: This area is quite remote and supplies can be scarce, so it is worth stocking up on the staples in Pemba if you are self catering. You will be able to catch or buy an array of fresh seafood along the way as well as fruit and some vegetables. The Arab influence and the legacy of the spice trade means that local dishes are spicy and flavorful. What is there? A huge diversity of habitats from coral atolls to sea grass flats to massive drop offs of over 200 meters make for excellent diving and snorkeling. There are endless varieties of tropical reef fish as well as larger animals such as dugong, rays, dolphins, humpback whales and turtles. The bird life is also fantastic with many rare and migratory species. The Quirimbas Archipelago is also the site of the legendary Lazarus banks, an off-shore atoll that rises from the depths of the Mozambique channel, offering some of the best deep-sea fishing in the world.