ICF World Cup 2022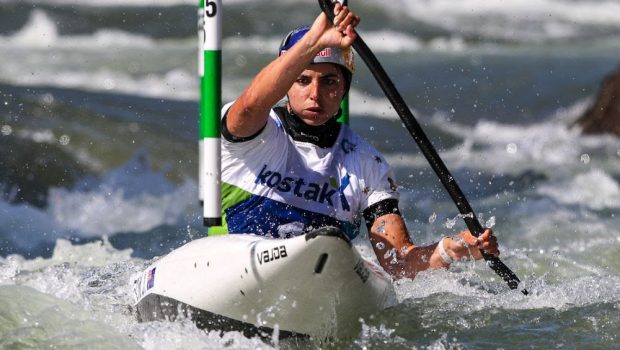 Published on June 26th, 2022 | by Paddleworld
Fox and Prskavec do what it takes in Tacen
Australia's Jessica Fox overcame illness and Czech Jiri Prskavec put down a near perfect run to secure gold medals on the first day of finals at the ICF canoe slalom world cup in Tacen, Ljubljana, on Saturday.
An emotional Fox was physically ill before her K1 final, and was barely able to stand after her race, but still managed to record a time quick enough to win her third consecutive world cup gold for the season.
Fox said her run was far from perfect, but she was proud of what she achieved under the circumstances.
"Today's been a bit emotional because it's been a real mental battle, I was feeling really ill this morning and vomiting, so to actually make the final and then pull it out in the final and keep pushing to the finish, I'm so proud of that run, I can't quite believe I won today," Fox said.
"It wasn't perfect, but often it never is, you've just got to keep composed and keep pushing. I felt like it was quite an ugly run, but the time was still solid."
No athlete posted an error-free run in the women's final, with Fox finishing 2.78 seconds ahead of Great Britain's Mallory Franklin, with Ukraine's Viktoriia Us taking the bronze.
Olympic gold medalist Jiri Prskavec put together his best run of the season to win his first world cup gold medal outside of home course in Prague. The Czech was the only paddler to go below 80 seconds.
"I believe it was very good, I got a little bit stuck in the last few downstreams but other than that I was super happy with my run," Prskavec said.
"I've been waiting for this for a long time, now it's come. I guess I needed that one win, so now it has happened I will maybe have more wins outside of Prague."
Martin Srabotnik gave the large Slovenian crowd reason to celebrate by winning silver, his first ICF world cup medal, while Slovakia's Jakub Grigar won the bronze.
RESULTS
WOMEN'S K1
FOX Jessica (AUS) 94.24 (2 seconds penalties)
FRANKLIN Mallory (GBR) 97.02 (2)
US Viktoriia (UKR) 97.58 (2)
MEN'S K1
PRSKAVEC Jiri (CZE) 79.79 (0)
SRABOTNIK Martin (SLO) 81.16 (0)
GRIGAR Jakub (SVK) 84.61 (0)