Racing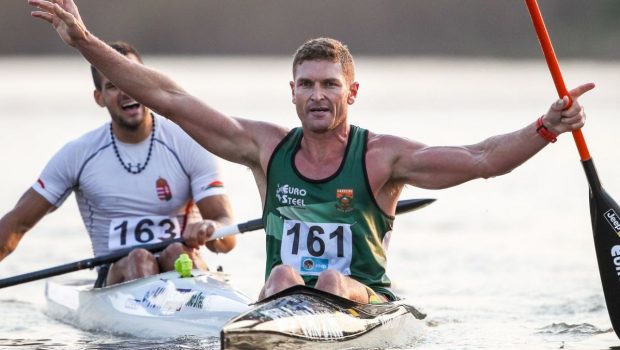 Published on October 17th, 2019 | by Paddleworld
ICF Kayak Marathon Worlds, Mc Gergor Forced to Withdraw
by Ross Solly
South Africa left 'devastated' by forced withdrawal of McGregor
12-time ICF canoe marathon world champion Hank McGregor is on his way home from the 2019 world titles in Shaoxing, China, having failed to recover from a virus in time for this week's event.
Team leader Graham Neate said the South African squad has been left 'devastated' by McGregor's withdrawal, but the 41-year-old was left with no choice.
"Hank's gutted, he really is devastated," Neate said.
"You can see he's having this internal fight, because he was going to do three races. I think in his mind he was down to two, to see if he could recover. We obviously needed to see if we could get a replacement for him, but we didn't want to put him under pressure to make his decision.
"He really wanted to do it. He's a really passionate person, very proud, and I really felt for him. He came to me yesterday afternoon and said his body was in really bad shape, he was in a lot of pain, and he had medical advice so it would have been foolish to paddle."
Neate said McGregor was diagnosed with shingles, a viral infection that can cause a painful rash. He was entered in the short course, marathon and K2 race this week. The team is hoping to rush Nick Notten from South Africa to China to team up with Andy Birkett for the men's K2 and to contest the K1.
Notten finished third behind Birkett and McGregor in the South African team trials and would be considered an outside medal prospect, despite the late call-up.
"I tried to give Hank a bit of space yesterday, but he looked absolutely devastated," Neate said.
"He's had a big year. He won the Molokai, and he's got a surfski world cup coming up in South Africa in a couple of week's time, which I don't know if he is going to be able to do.
"But Hank's a true competitor, he would just race at every opportunity. He's gutted."
McGregor momentarily retired from K1 racing last year, but was talked into returning for this year's world championships. Neate said he expects the seven-time individual world champion will now set his sights on next year's world titles.
"You never write Hank off. As long as his body will co-operate, he'll be there, absolutely."
The 2019 ICF canoe marathon world championships begin in Shaoxing on Thursday and continue through until Sunday. The men's K1 race will be held at 3pm local time, Saturday afternoon.