Events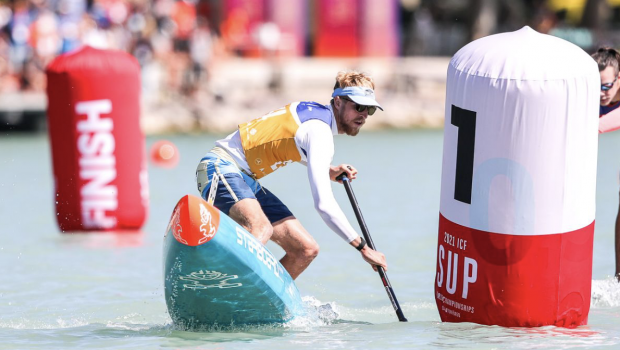 Published on September 9th, 2021 | by Paddleworld
INDUSTRY NEWS: Baxter Sets the Bar High on Opening Day of ICF SUP World Championships
American Connor Baxter set fastest times in both the technical and the sprint disciplines as the 2021 ICF Stand Up Paddling World Championships got underway in Hungary on Thursday.
The scene is set for thrilling finales in both events after tight racing on the opening day of competition in Balatonfured, but it was the American 2019 sprint champion who was the stand-out performer.
Baxter, who broke a SUP sprint world record at the 2019 ICF world championships, showed he had benefitted from some time away from the sport by posting the quickest time in the men's technical and sprint quarter finals.
Baxter recorded a time of 5.05:18 in the technical, ahead of Peru's Itzel Delgado in 5.07:05, and 51.46 seconds in his sprint quarter final.
"It gave me a lot of rest physically and mentally, I've been doing this for 12 years now so the motivation has been up and down," Baxter said.
"The vibe is in here, the fire is lit up high, I'm proud to be representing the USA. I'll be going for gold, but I'm also here to be having some fun."
Baxter's biggest challenge in the sprint may come from New Caledonia's Noic Garioud, who was comfortably leading his quarter final before falling from his board near the finish. However he was able to climb back on and still managed to cross the line in second.
Spain's Esperanza Barreras posted the fastest time in the women 's technical race quarter finals, but has the American duo of April Zilg and Fiona Wylde breathing down her neck. The Spaniard finished the course in 5.45:47, with Zilg winning her quarter final in 5.47:88.
"I'm feeling more comfortable with every race, and I'm feeling more comfortable with the course," Barreras said.
"The field is really really strong, so I think there could be a lot of surprises at the end. This place is incredible, the organisation is really professional, so I'm really happy to be here.
"This type of event with more than 500 paddlers, it has not been normal for two years so we were all really nervous at the beginning, my stomach was so tight for the first heat. But we are all so happy to be here and enjoying being with everyone again."
Russia's Elena Prokhorova in a time of 1.05:42 recorded the fastest time in the women's sprint quarter finals.
Friday will see finals in the men's and women's distance races.