Gear Review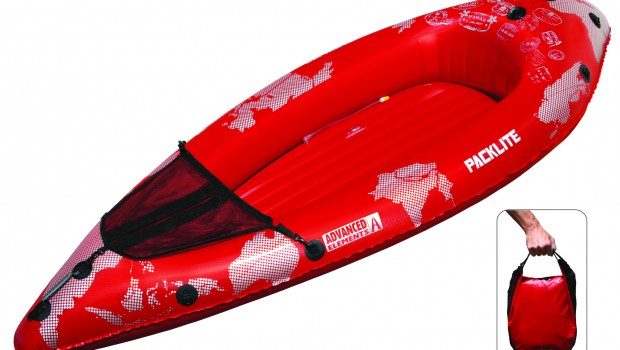 Published on September 4th, 2015 | by Paddleworld
New Products @ PADDLEexpo 2015 – Advanced Elements PackLite Kayak
In Partnership with PADDLEexpo (Sept 17-19th 2015), Kayak Session mag, Paddle World mag and SUP World Mag are releasing web updates previewing what seems to be the coolest paddlesports items expected to be seen at this year's World's biggest Paddlesport Trade show.
The PackLite Kayak is designed to be an extremely compact and lightweight recreational inflatable kayak equipped with several unique features to make it the perfect ultra-light kayak for paddling in the most remote locations. It has 3 chambers for optimum safety, packs down to the size of a hand bag, and features easy to use valves for easy inflation. When out on the water, the mesh carry bag doubles as an on-deck gear bag for securing smaller items. Paddling a remote alpine lake or stream has never been this easy!
Not only does the PackLite Kayak weigh in at 1.8kg and pack down to the size of a hand bag, but it features a patented multi-chamber design and shape that is more like a kayak rather than a raft. The PackLite Kayak's  unique air chamber design provides optimum safety while out on the water because the main chamber is divided into two separate air chambers that encompass the entire kayak so that, if one chamber were to become compromised, the kayak has a second chamber fully encompassing the boat. Additionally, its unique shape and I-beamed hull/floor chamber provide for enhanced tracking ability more like a kayak.
Length: 238.76 cm
Width: 89 cm
Weight: 1.8 kg
Max. Weight: 113 kg
Folded Size: 27.94 X  27.94 X 12.7 CM
More info go to: https://www.advancedelements.com/packliteqr.html
Demo Video >