ICF World Cup 2022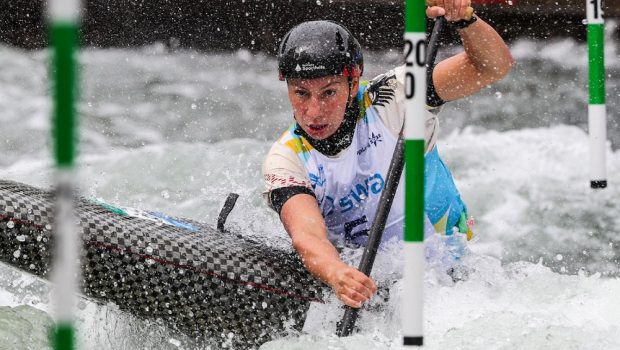 Published on July 29th, 2022 | by Paddleworld
Olympic and world champion show fast time in Augsburg – ICF News
Olympic and world champion show fastest form in world title qualifiers
The past two men's C1 Olympic champions and the women's C1 world champion from 2019 topped their respective leaderboards after qualifying at the ICF Canoe and Extreme Slalom World Championships in Augsburg on Friday.
Frenchman Denis Gargaud Chanut wound the clock back to his Rio 2016 gold medal performance to post the fastest time in the men's C1, while Slovenia's Benjamin Savsek, who took the Olympic crown in Tokyo, was second quickest.
Germany's Sideris Tasiadis, silver medalist in London and bronze medalist in Tokyo, will go into Sunday's semi-finals as the third fastest qualifier.
Gargaud Chanut said his main goal was to avoid having to rely on a second qualification to get into the semi-final.
"I didn't push too hard, I just wanted to avoid the second qualifying run, because I've done two or maybe three already this year," he said.
"I've been a bit frustrated this year with my results, but overall I've been happy with the way I have been paddling. There's just small mistakes which have pushed me away from the win or the podium at some races.
"I've also learned from this season that qualification is not a moment to overcomplicate the task."
Germany's Andrea Herzog showed a return to her best form with the fastest time in the women's C1, despite picking up a two-second penalty for a gate touch. The 22-year-old world champion from 2019 won bronze at last year's Olympics, but missed last year's world championship final, and the final at this year's ICF World Cup in Prague.
She said the depth in women's canoe is so strong even small mistakes can be costly.
"My speed was okay, but I think I can go faster. But for a qualification run I think it was good, pretty controlled, so I'm happy with that," Herzog said.
"I think everyone here is ready and would like to stand on top of the podium and hear their national anthem. But I think I have to be good, because all the others are so good.
"You cannot make mistakes to get to the finals. It's good, because women's canoe is now pretty good, and we're in the Olympics, so the boys can have a look at us I think. »
France's Marjorie Delassus was second fastest, while Great Britain's Mallory Franklin, a C1 gold medalist at the past two world cups, was third quickest.
Saturday will see the men's and women's K1 finals, and the qualification rounds for the extreme slalom.