Sea kayaking
Published on August 3rd, 2023 | by Paddleworld
65 Year Old Paddles Into Record Books With End Of Epic Kayak Odyssey
After 268 days in his kayak, 1643 hours of paddling and a journey of almost 11,000km, 65-year-old Mark Fuhrmann has today completed his epic "Reverse the Bad" charity expedition across Canada and the United States.
In doing so, he becomes the first person to solo kayak the 'Greater Loop' circuit, beginning (and ending) in Halifax, Nova Scotia, and traversing the Great Lakes, the Illinois, the Mississippi, the Tennessee and Tombigbee Rivers, before hitting the Gulf of Mexico and heading up the Atlantic Coast.
Paddling for positivity
A smiling, but understandably exhausted Fuhrmann, stepped out of his kayak – possibly for the last time – greeting well-wishers with the memorable line "can I get a beer please?" As it transpired, he got more than one.
The Canadian native, who relocated to Oslo, Norway in the 1990s, set out from Halifax on 2 June last year. His aim, apart from travelling across North America, was raising much needed funds for charities Doctors Without Borders and Captains Without Borders, as well as pushing a message of "positivity, community and caring for our troubled times."
Deep connections
"It's been a hell of a trip," he exclaims, "but worth every minute of exertion, discomfort and pain. Not only to raise money and awareness, but also to have such a genuine experience; one where I feel I've really connected with nature, people and something deep within myself. Looking back, I'm truly grateful for every day, in addition to the immense, and touching, generosity of an army of supporters en route.
"But that doesn't mean I'm planning another trip anytime soon!"
Extreme endurance
Fuhrmann, who also completed a charity kayak from Oslo to Athens, Greece in 2017, says the last leg of the journey was arguably the toughest of all. He had to navigate through 23 days of continuous fog, tackle extreme tides and currents – particularly in the Bay of Fundy – and struggled to find anywhere to pitch his tent on the rocky, treacherous coastline.
"Some evenings I had to drag my kayak up three or four metres of rock inclines, while others I was lucky enough to sleep on moored lobster vessels. There were some challenging waves too, as well as a lot of ferries and fishing boats to avoid. It's been incredibly draining… and I'm looking forward to a good night's sleep, in an actual bed."
He's also eager to see his family, including his young grandchildren, and friends face to face, and may throw a small party when he's back in Norway.
"I think we have to celebrate the fact I survived," he says with a big grin, adding, "I hope the folks back home feel the same way too!"
Vital support
Mark chose the Reverse the Bad charities as his late wife was a doctor, while the company he ran before retirement – Blue-C – is a specialist maritime PR and communications firm. Captains Without Borders focuses on providing education scholarships and assistance to individuals from disadvantaged backgrounds looking to forge careers at sea. There's still time to donate to the charities through the Reverse the Bad website and help out these incredibly worthy causes. Please see www.mark-ervin.com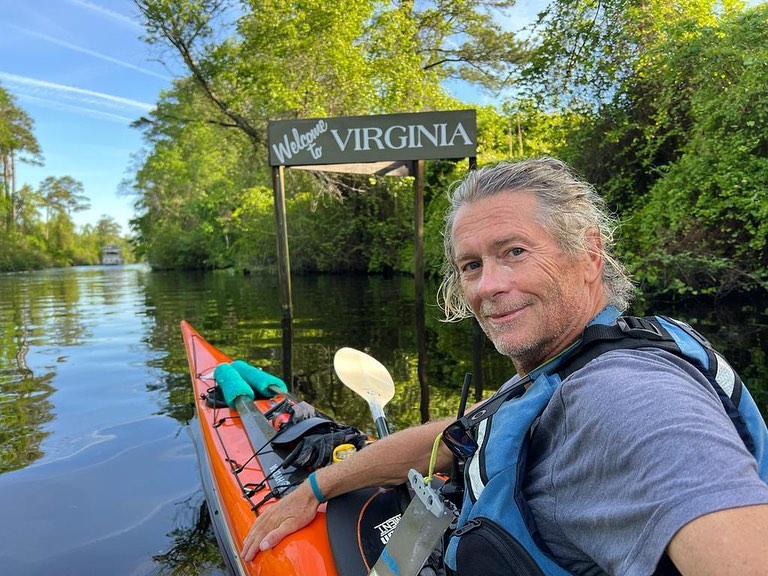 For more details about Mark and the Reverse the Bad tour please contact:
Christina Dupre Roos
Press manager, Blue-C
Phone: +47 936 34 449
Email: christina@blue-c.no
Mark Fuhrmann
Phone: +47 901 53 003
Email: mark@mark-ervin.com
www.mark-ervin.com