ICF News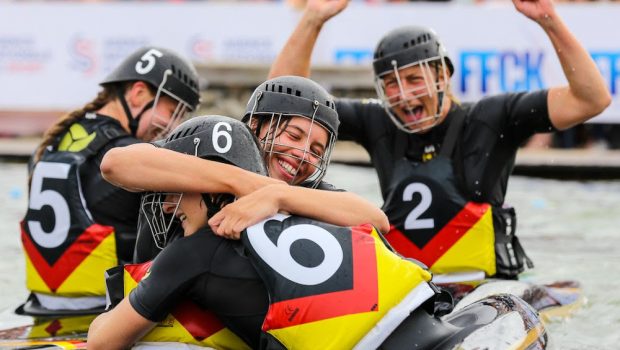 Published on August 22nd, 2022 | by Paddleworld
Germany sweep gold medals on final day – ICF News
Germany were twice forced into extra time but finished with both available gold medals on the final day of the 14th ICF Canoe Polo World Championships in St-Omer on Sunday.
For the German women's team it was an incredible seventh world title, and their second in succession, while for the men they have now won the past two world titles after ending a 24-year wait at the last championships in 2018.
In the process of claiming gold the German women broke the hearts of a capacity French crowd who had been hoping all week for a hometown win. France's captain Claire Moal sent the audience into a frenzy when she opened the scoring, but Germany were able to steady to lock the scores at 1-all at the end of regulation time.
French hopes that their only medal of the weekend would be golden were dashed in the opening minute of extra time, a German goal clinching title number seven 2-1. It also reversed the result of The World Games final in Alabama last month.
Captain Elena Gilles said even after going behind one-nil she was confident her team would win, especially after going through the entire tournament without losing a game.
"It didn't feel like we could lose," Gilles said.
"We managed to control the game, even though we were one goal behind. But anything can happen in extra time. It feels really nice to win again.
"I don't think wanting revenge was on our minds so much, it was more trying to find a solution against their really open defence."  
The silver medal equalled France's previous best performance in the women's competition. They finished second, also behind Germany, back in 2004.
The German men's team also went into Sunday's final having won every game they played this week, but found themselves behind early to a flamboyant Spanish team who were refusing to be intimidated by their powerful opponents.
With just seconds to play Germany looked to have secured the title with a 3-2 scoreline, but a Spanish goal forced yet another final into extra time. 24 hours earlier the Spanish U21 team had beaten Germany in golden goal, but there was to be no repeat on Sunday when the unflappable Germans eventually scored the winner.
"We had really good form from the World Games, and we're really happy just to bring it home," Vieren said.
"We had some really good chances in the early part where we just didn't score, in the end we were luckier. We are very close and have a great spirit. It's so much fun with guys outside the pitch wherever we go, playing basketball, we just have so much fun.
"I think that's a key to winning."
Silver for Spain is their best ever result in the men's competition, and ends a streak of three bronze medals.
Third place in both the men's and women's matches went to Italy, who beat Great Britain in the men's play-off, and New Zealand in the women's. It's the fourth men's bronze medal for the Italian men, and back-to-back bronze for the women – their only world championship medals.
Germany finished on top of the medal table with their two gold and two silver, Spain finished with one gold, one silver and a bronze, New Zealand with one gold, France with one silver and Italy with three bronze.