ICF News
Published on August 7th, 2022 | by Paddleworld
Harrison shocks herself with a gold medal – ICF News
Olympic gold medalist Nevin Harrison made a triumphant return to international racing as ten nations shared the medals on offer on the final day of the ICF Canoe Sprint World Championships in Dartmouth on Sunday.
Other winners included Romania's Catalin Chirila in the men's C1 1000, Poland's Karolina Naja and Anna Pulawska in the women's K2 500, and Hungary's Bence Nadas and Balint Kopasz in the men's K2 500.
In non-Olympic events, New Zealand's Lisa Carrington continued her dominance of the women's K1 200, an event where she is unbeaten since 2011, while Germany's Sebastian Brendel picked up his 13th world title by teaming up with Tim Hecker to win the C2 1000.
Harrison surprised even herself with her win in the women's C1 200, the event where she won gold when the race made its Olympic debut in Tokyo last year after becoming world champion in 2019.
"I'm shocked, I took a lot of time off training, and it was a really, really hard year for me," Harrison said.
"Coming back with gold is beyond what we had anticipated for me. There are a lot of personal things that ended up happening in my life. I think I was under the impression that if I were to bring home gold from Tokyo, everything would be perfect and everything would work out.
"But that's just not how it was. That was tough, it was just like the world falling in on me for a bit. But the canoe has really kept me grounded and I just really believed in myself like I always have."
Romania's Catalin Chirila won his country's first C1 1000 world title since 1986, holding off fast-finishing Olympic champion Isaquias dos Santos for the gold.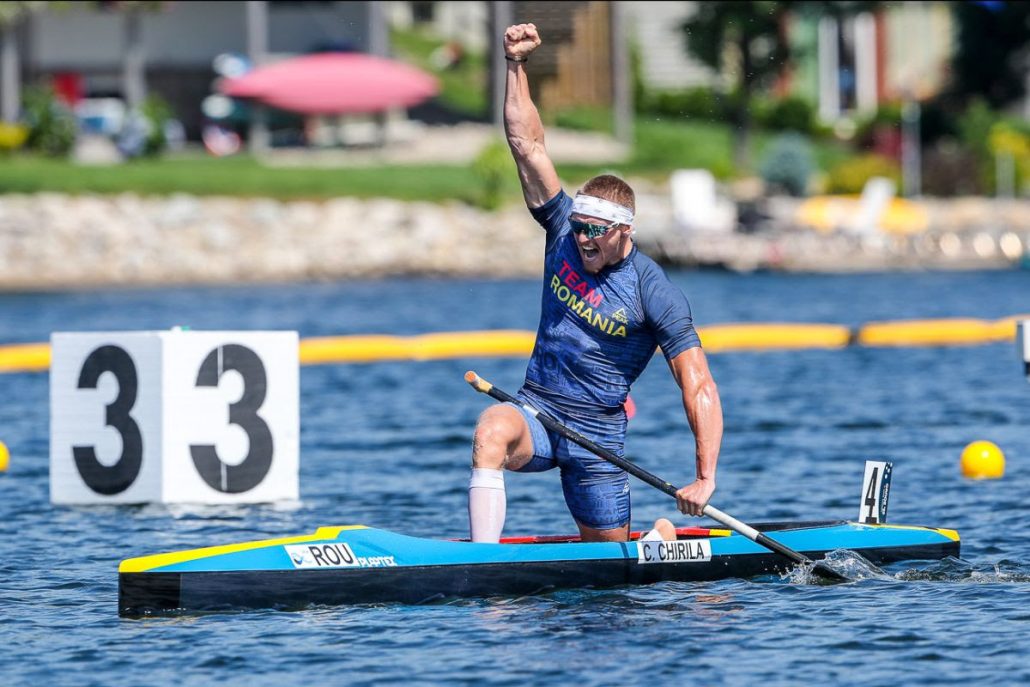 "This is my first world championship in the C1, so this result is phenomenal and I'm very happy about it," Chirila said.
"To prepare for this has been a lot of pain. This is my road to Paris so we will see."
The K2 500 will be a new event at the Paris Olympic Games, and Hungary's Bence Nadas and Balint Kopasz staked their claim on early favoritism with a hard-fought win on Sunday.
For Kopasz it was his second world title of the weekend, after winning the K1 1000, while for Nadas it was his first world title since winning relay gold in 2014.
"It's so many years after my first world title, so it's amazing and incredible because it is a new Olympic race," Nadas said.
"Today it was the most important thing to hit my best form. I would like to do both races in the next Olympic Games," Kopasz said.
Poland's Karolina Naja and Anna Pulawska have been the form team in the women's K2 500 this season and turned those results into world championship gold in Dartmouth.
It was the first time Poland had won the women's K2 500 since 1999 and provided a second gold to Naja and Pulawska after they earlier won gold as part of Poland's K4 500 crew.
"It was a fantastic weekend for us and for the Polish Federation, we are really happy but already ready for the next competition," Pulawska said.
"We knew we could win today, but it was really close with the girls with Germany, but we were strong at the end."
There was double gold for Australia's Alyssa Bull, triumphing in the women's K1 1000, and teaming up with Jackson Collins in the mixed K2 500.
Host nation Canada celebrated two gold, winning the women's C4 500 and Connor Fitzpatrick and Katie Vincent taking out the mixed C2 500.