Racing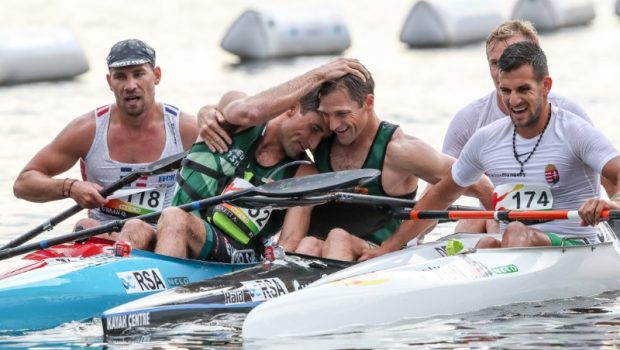 Published on October 16th, 2019 | by Paddleworld
ICF Kayak Marathon Worlds, Will Andy Birkett Keep its Crown?
by Ross Solly
Birkett ready to take on multi world champion to defend marathon crown
If defending ICF canoe marathon world champion Andy Birkett has any regrets about the role he played in convincing good friend and seven-time world title holder Hank McGregor to return to K1 racing this year, he is not showing it.
McGregor surprised almost everyone last year by stepping down from K1 marathon racing, even though the South African had won the past five world titles. In his absence, Birkett took the gold in Portugal.
But watching on from the commentary box last year proved too much for the 41-year-old McGregor to stomach. He teamed up with Birkett to win the K2 at the end of the week, his fourth doubles world championships gold, but he was already missing the individual race.
Birkett could be forgiven if he tried to convince McGregor to keep his K1 in the shed. At the start of this season he had the chance, but went the opposite way.
"I think I was actually the one convincing Hank at the beginning of the year to come out and race marathons this year, certainly in the double," he said.
"I wasn't surprised when he said he was doing the single, because I could see last year he was keen to race. He was sitting around the whole week waiting just for the doubles race, so it makes sense to do the singles as well.
"We're good mates, and we have a good laugh together, so it will be awesome to be able to race him again. He's always strong."
And if it means losing the world crown that he worked so hard to get?
"I'm not going to jinx myself by talking about beating Hank, or beating this other person, I'm looking forward to just having a good race," he said.
Birkett was spotted on Wednesday sitting in the stands with McGregor at the beautiful Shaoxing course, discussing the venue layout and how this weekend's race might unfold. Both looked relaxed and laid back, like two mates chatting ahead of a casual paddle on a local lake.
Saturday's clash will be anything but a casual paddle. 29-year-old Birkett, head-to-head with his K2 partner and the most hunted man in canoe marathon for more than a decade. Both will be under pressure – Birkett to defend his crown, McGregor to justify his decision to return.
"It is a different situation for myself from previous years, but you have to put all that behind you, and just look at it as a new race, a new year," Birkett said.
"Everyone's on an even footing so I don't try and put any extra pressure on myself. I've certainly put some pressure on myself, but you don't feel it from others.
"I know a lot of the guys I race, they're good mates, everyone is fit and strong, and everyone has got a good chance at the end of the day."
The Shaoxing course is already receiving rave reviews from the big international contingent in China. Incredibly beautiful, with plenty of challenges for the athletes and big rewards for the bold.
"It's been really cool, it's a beautiful venue, a beautiful course to race at and we feel like we are settled after a few days here," Birkett said.
"There seems to be three different laps for the race, so we might have to draw a little map on our boats, but once you get used to it it's an exciting course. There are some obstacles out there, which will be something to look at. I think it's going to be a good, fun race."
The 2019 ICF canoe marathon world championships begin in Shaoxing on Thursday and continue through until Sunday. The men's K1 race will be held at 3pm local time, Saturday afternoon.