Gear Review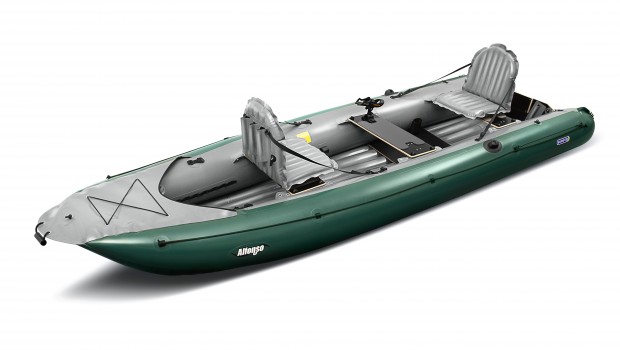 Published on October 6th, 2016 | by Paddleworld
New @ PADDLEexpo 2016 – Gumotex, Alfonso
ALFONSO is a boat designed for anglers that can be used as up to three-seater, however it is also suitable for comfortable and safe trips on the lakes, dams, ponds and larger rivers. The boat is very stable and it holds a forward course easily. On the transom on the stern of the boat (equipped with two rod holders) an engine can be mounted with the power up to 4 kW [5.4 hp]. Without the engine it can be used with classic canoe paddles (two-man crew) or oars. ALFONSO is equipped with many practical holders for attaching equipment and baggage.
Specs: Length: 430 cm, Width: 125 cm, Weight: 34.5 Kg, Dimensions packed: 68 x 55 x 30 cm, option to install an engine.
Boat equipment : Transom for motors with fishing rod mounts, Seats made of flat plywood with with PE foam « comfort pad », Inflatable seat with fishing rod mounts,Floor board, Fishing rod holder CANNON, Rubber ropes for fixation of baggage, Safety ropes on the side tubes, Fastening rope on the bow, Bottle holder, Handles for paddles and oars, Oarlock holder, Push-push valves, Safety relief valve in the bottom of the boat, Repair kit, Transport drybag 135l.
This serie of articles, called "NEW @ PADDLEexpo 2016" and produced by KS Publishing (publishers ofKayak Session, Paddle World and Sup World magazine, showcases the new products for 2017 to be exposed at the PADDLEexpo show taking place in Nuremberg, Germany on October 7-9th. PADDLEexpois the world's largest paddlesport-specific trade show ('trade show' meaning entrance is reserved for professionals) highlighting what the general public will find on shelves and in stores in 2017. It includes everything from kayaks and canoes to stand-up paddle boards and inflatables, with the apparel and accessories needed for it all. See the product and meet the manufacturer at PADDLEexpo 2016 in Nuremberg >www.paddleexpo.com