News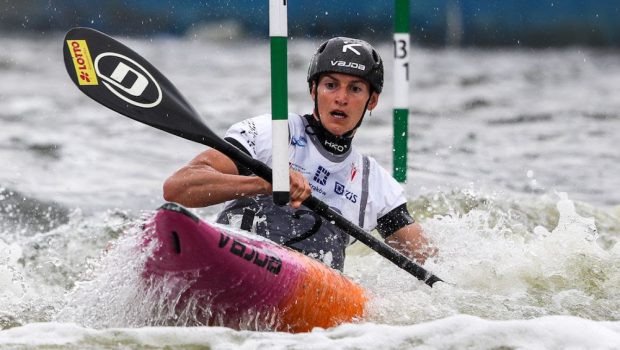 Published on June 18th, 2022 | by Paddleworld
Slalom World Cup Krakow – Day 1
Olympic gold medalist Ricarda Funk showed the form which took her to the top of the podium in Tokyo last year in a blitzing qualifying run in the women's K1 on the opening day of the ICF canoe slalom world cup in Krakow, Poland.
Italy's Giovanni De Gennaro repeated his feat of seven days earlier by posting the quickest time in a disrupted men's K1 heat. A power outage caused water level problems midway through the men's heat, forcing a handful of athletes to repeat their qualifying run.
In women's C1, Czech Tereza Fiserova showed no ill-effects from a facial injury suffered in Prague last weekend, posting the fastest time in the women's C1, while in the men's event, Olympic silver medalist Matej Benus of Slovakia pipped hometown favourite Grzegorz Hedwig for the fastest time.
Germany's Funk flew down the 23-gate course in a raw time of 96.32. A two-second penalty for a gate touch pushed her back to 98.32, still 0.86 seconds quicker than Czech Amalie Hilgertova, who was penalty-free.
Australia's Jessica Fox, bronze medalist behind Funk in Tokyo and winner of last weekend's opening K1 world cup event, also attracted a two-second penalty on her way to posting the third fastest time in qualifying.
Amelie Hilgertova bounced back from the disappointment of missing selection for the Czech team for the opening world cup in Prague by posting the second fastest time, one of only two athletes to go under 100 seconds.
Hilgertova said it was nice to be back at the venue where she became U23 world champion in 2019.
"I have good memories from here and we also come here every Autumn for a training camp because it's course where you really need to push hard," Hilgertova said.
"Last year and this year I didn't race really well at the selection races, this year it was more bad luck, so it's nice to remind myself what I am capable of doing good runs at this level."
The top 12 athletes in the men's K1 all posted error-free runs, with De Gennaro finishing 0.23 seconds ahead of Slovenia's Martin Srabotnik.
Great Britain's Bradley Forbes-Cryans was third fastest and said he felt he was finally getting back to the form which saw him qualify for the Tokyo Olympics.
"At selection I didn't feel like I had the same pace as my teammates, now its nice and a little bit of a confidence booster for me to know that I still am able to mix it with the international guys," he said.
Tereza Fiserova is on track to make it back-to-back world cup gold medals in the women's C1 after finishing quickest in Friday's heat. The Czech was sporting a bandage to protect a facial wound she sustained on her way to extreme slalom victory last weekend.
The injury kept her out of the water for three days, but it made little difference.
"I'm pretty happy because I only had a few trainings on this slalom course," Fiserova said.
"It's been pretty horrible for me, but at least now it doesn't look so bad. We arrived here Monday and I couldn't train until Wednesday, but now I am happy."
The final of the men's and women's K1 and the qualifying runs for the extreme canoe slalom will both be held on Saturday.