Instructional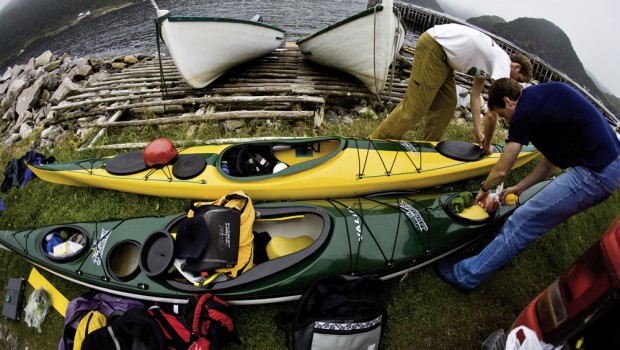 Published on September 24th, 2013 | by Paddleworld
Tips: Securing Loose Gear
Pulling from twenty years of paddling and boat design experience, Nigel Foster shares with us a variety of tips and technical skills that will make our sea kayaking and touring trips easier and more enjoyable.  In this column, Nigel tells us about which things we should carry on deck and how to keep them secure.
Keeping all your gear together is not usually a problem on calm water. Even gravity works well enough sometimes, but there are better ways to keep your gear safe. I've lost quite a few things myself over the years; sunglasses, hats, the occasional spare paddle, chart and flashlight, and I've seen paddlers lose pumps and sponges, cameras and drink bottles, hats and jackets from beneath on-deck bungees. It's better to take a few simple precautions.
The fewer things on deck, the better.
Hatches offer the greatest security for loose items. Anything you won't need on the water can be stowed away in watertight compartments for later. Some kayaks come equipped with an additional day-hatch within reach on the rear deck, or immediately in front of the cockpit. These hatches are great for securing those things you might need while you are afloat, such as snacks, a drink bottle, sunscreen, hat, or an extra layer of clothing.
Pin down anything stored on the deck
Some things you might need either won't fit into a hatch, or need to be constantly accessible. Fasten your spare paddle to your front or rear deck with bungees, or for greater security in a purpose-designed clip-on deck bag, or tubes. Your compass, if it does not bolt on, should be clipped securely in place to your deck-lines. Your chart case should also be clipped onto your deck lines, before being held in place under bungees. If you carry a pump and paddle float, these may be secured by bungee inside the cockpit beside the seat; you'll most likely have your sprayskirt removed when you need them. If you prefer to keep them on deck, clip them to your deck lines so you'll not lose them when they are washed from beneath your bungees.
What should you carry on your person?
Most serious sea kayakers carry some items in the pockets of their pfd or jacket for safety. For example, a marine VHF radio is a good thing to have
in your pocket if you find yourself separated from your kayak.  A whistle, and maybe distress flares could also be useful in that kind of emergency. Otherwise, your tow-line may need to be readily available, and maybe your waterproof camera. You might want to have your car key and some cash handy. It's cumbersome to carry too much on your person, so figure out on a daily basis what to carry on your person, and what is accessible enough in your day hatch.
What about your paddle?
Most things can be attached so they will not wash away, even in the surf zone. My paddle is the one thing I prefer to be free, on the basis that I hold it most of the time.  But I remember in big swell and strong tide off the island of Nolsoy in the Faroe Islands; a few paddlers rafted together for a break, and one of the paddles drifted away. It took a lot of hunting around to locate it! That could have been prevented with a paddle leash.  A paddle leash can be attached to your wrist or to your kayak. If you paddle a sit-on-top kayak, or an inflatable kayak, or a racing ski, it is probably best to attach your paddle to your craft, so if you fall off, you can hang onto your paddle to prevent your craft from floating away in the breeze. Even if you let go of your paddle, it will drag in the water as a drogue to stop your craft blowing away so quickly, so you may be able to catch it again. In a sea kayak, you might choose to tether your paddle to your wrist.
Some general guidelines.
Figure out what you really need to have handy, and stow everything else away.
Secure any items you really need on deck by clipping them to your deck-lines, and pinning them beneath bungees (bungee alone will not always hold things safely in surf for example).
Consider if there is anything you really need to carry on your person.
If you use a paddle leash, make sure you can unclip it easily from either end in case of entanglement.
 More info on Nigel Forster adventures, books, and designs visit: www.nigelkayaks.com