Racing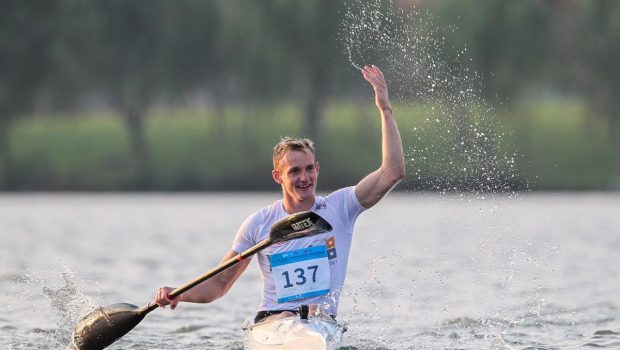 Published on October 18th, 2019 | by Paddleworld
ICF Kayak Marathon Worlds, Junior & U23 Report, Results
by Ross Solly
Pedersen sets up shot at history as Hungarians continue golden feast
Hungary's thirst for gold medals continued unabated and Denmark's Mads Pedersen is on the cusp of making world championship history after a thrilling day two of competition at the ICF marathon titles in Shaoxing.
Pedersen made canoe marathon history earlier this year when he won both the U23 and senior European K1 titles within the space of 24 hours. On Friday he took the first step towards becoming the first athlete to win both titles at a world championship level, cruising to U23 gold.
"I'm super happy to be able to do what I'm good at, and to be successful is just amazing," Pedersen said.
"We'll see how fresh I am tomorrow, but I am keen to get out there and race again. We'll see howe much energy I have."
Pedersen and Danish teammate Thorbjorn Rask cleared out from the rest of the field during the first lap of the 25.90 kilometre race, and the pair had the race to themselves.
Once again it was the Hungarians who dominated in China, adding to the three golds they won on the opening day with another quartet of titles on Friday.
One of the most convincing wins came from Hungarian U23 K1 paddler Lili Katona, who finished more than one minute ahead of Norway's Anna Sletsjoee.
Nobody was more surprised than Katona, who missed three months of training over the European winter with an injured shoulder.
"It was my dream to be a world champion, and now my dream is true, it's amazing," Katona said.
"It was hard because I had a problem with my shoulder, so I didn't know if I could do it. It was a surprise for me."
One of the tightest finishes of the day came in the men's junior K2, with Hungary's Zsombor Ory and Tamas Erdelyi outsprinting South Africa's David Evans and Hamish Mackenzie to take the gold by slightly more than one second. It was a third minor medal for the South Africans.
"It was a very hard race, but we felt confident we could be strong at the finish," Ory said.
"We are also very good friends and have been paddling together for two years, so that helps a lot. South Africa and Denmark are both very strong, so we don't know how we won this race."
France's Clemence LeBlanc could not have been more impressive in the first ever junior C1 world championship final, withstanding a spirited challenge from Hungary's Csenge Molnar.
"It was a very hard race, the Hungarian is very good," LeBlanc said.
"I did not feel confident. The start was very hard because I was second, so I had to work hard."
Benedek Horvath followed up his gold medal from the men's junior C1 on Thursday with Hungarian gold in the men's junior C2 alongside Oliver Nagy.
It was a hard fought race, with the Hungarians having to see off as determined effort from the Chinese crew of Zihang Wang and Jiadong Zhu, which even saw the two boats collide.
"The Chinese boys tried to cut the angle, but we did not stop," Nagy said.
"The race was pretty hard, we didn't expect the Chinese boat to be so strong. I think in the last three kilometres we felt like our technique and our pace was good enough to win."
It was also a second gold medal for Eszter Rendessy, following her K1 junior gold medal from the opening day with a K2 gold alongside Emese Kohalmi.
"We felt very good, it was our plan to go out hard," Rendessy said.
"We were able to train with the senior team in Hungary. We just pushed from the start, but did not feel confident we could win until the finish."
Ukraine's Denys Davydov followed up his European U23 C1 title with a close win in Friday's world championship final, finishing just two seconds ahead of Poland's Mateusz Borgiel.
K2 Women Juniors
Kohalmi/Rendessy (Hun) 01:21:52.03
Csonka/Csengeri (Hun) 01:23:27.22
Hazova/Zarubova (Cze) 01:24:08.35
C2 Men Juniors
Horvath/Nagy (Hun) 01:26:50.28
Wang/Zhu (Chn) 01:27:16.69
Crespo/Pineiro (Esp) 01:27:54.54
C1 Women Juniors
Leblanc Clemence (Fra) 01:01:08.45
Molnar Csenge (Hun) 01:01:12.51
Zhang Die (Chn) 01:01:46.66
K1 Women U23
Katona Lili (Hun) 01:49:53.66
Sletsjoee Anna (Nor) 01:51:15.13
Irata Osa (Esp) 01:51:30.55
C1 Men U23
Davydov Denys (Ukr) 01:51:16.00
Borgiel Mateusz (Pol) 01:51:18.40
Laczo Daniel (Hun) 01:52:15.67
K2 Men Juniors
Ory/Erdelyi (Hun) 01:32:29.11
Evans/Mackenzie (Rsa) 01:32:30.97
Knudsen/Thomsen (Den) 01:32:38.22
K1 Men U23
Pedersen Mads (Den) 01:51:49.56
Rask Thorbjorn (Den) 01:52:26.46
Gyorgjakeb Mate (Hun) 01:54:01.11