Gear Review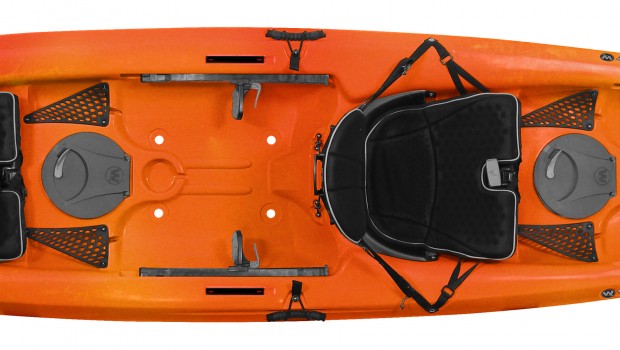 Published on September 7th, 2015 | by Paddleworld
New Products @ PADDLEexpo 2015 – Wilderness Systems Tarpon 130X and Tarpon 135T
In Partnership with PADDLEexpo (Sept 17-19th 2015), Kayak Session mag, Paddle World mag and SUP World Mag are releasing web updates previewing what seems to be the coolest paddlesports items expected to be seen at this year's World's biggest Paddlesport Trade show.
Wilderness Systems Tarpon 130X and Tarpon 135T
 Tarpon 130X
Wilderness Systems, the makers of high-performance kayaks for passionate anglers, recreational boaters and expedition paddlers, announced today the addition of the Tarpon 130X to its performance driven, sit-on-top (SOT) Tarpon family.
The new Tarpon 130X couples the original Tarpon's sleek, speedy, and exceptionally stable performance attributes with modern shaping and a bevy of new customizable features. Wilderness Systems narrowed the hull and added sidewall flare to create a remarkably fast, nimble, yet stable ride. The result: a high-performance fishing kayak for experienced and recreational anglers alike.
"The Tarpon is one of the most popular and trusted boats in the lineup. We wanted to give this classic fishing kayak a modern overhaul," said David Maughan, product designer for Wilderness Systems. "We used subtle design changes to make the aerodynamic hull even more stable as a fishing platform, while adding customizable features for electronics, accessory mounts, seat adjustments, and more."
The Tarpon 130X includes the versatile Flex Pod OS, a drop-in, self-contained console that adds more storage, electronic, and propulsion opportunities. The ultra-comfortable AirPro MAX Lite seat, though not height adjustable, features a new slide-on-track system for increased fore/aft trimming while maintaining all of the comfort features found and loved in the AirPro MAX high/low seat.
The Tarpon 130X will be available for retail purchase spring 2016 in six color options: Desert Camo, Dusk, Flint, Mango, Midnight and Sonar.
https://www.wildernesssystems.com/kayaks/tarpon
Tarpon 135T
The Tarpon 135T takes the classic and beloved Tarpon 130 tandem hull to a whole new level with industry-leading Phase 3® AirPro outfitting, abundant storage including cup holders, and even two sets of SlideTrax™ to accommodate fishing gear and other accessories for an equally enjoyable time on the water for both paddlers. The Tarpon 135T offers a fast and nimble tandem paddling experience while remaining highly stable and supremely comfortable, all with strikingly good looks.