ICF World Cup 2022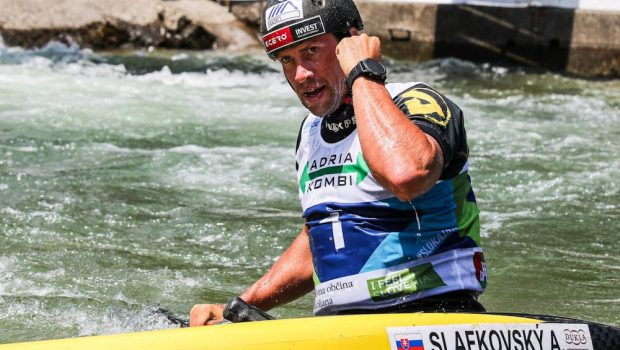 Published on June 28th, 2022 | by Paddleworld
Slafkovsky shows there is still more to come – ICF News
Slovakia's Alexander Slafkovsky turned back the clock and Great Britain's Mallory Franklin made it two wins in a row on an exciting day of racing at the ICF Canoe Slalom World Cup in Tacen, Ljubljana, on Sunday.
In extreme kayak Great Britain's Kimberley Woods and Sweden's Isak Ohrstrom took the gold medals in a competition where almost all of the biggest names fell by the wayside early.
39-year-old Slafkovsky, the oldest paddler on the international circuit, triumphed over a men's C1 field which included two Olympic champions. An emotional Slafkovsky said to be back on top of the podium on a course he first paddled on in 1995 was pretty special.
"The season started not as I planned, so I was counting on Tacen, on a course that I like," he said.
"I was very happy already to be in the final, and I just wanted to show what I can do. It means a lot to me. I know I'm the oldest on the circuit still paddling, but it's not an excuse, it's something where I want to use my experience to do well.
"I want to please the people who still believe in me, and hopefully today I did it, I made them happy. I have to be realistic, the body will tell me when I have to stop, and already for two years my body is telling me to be careful."
Slafkovsky's win also denied a hometown triumph for Slovenians' Luka Bozic and Benjamin Savsek, who both had two-second penalties for a gate touches which slipped them to second and third respectively.
Mallory Franklin backed up her gold medal performance in Krakow last weekend with another C1 gold in Tacen on Sunday, putting together an error-free run as the final paddler on the course to move past American teenager Evy Leibfarth.
"It's pretty cool, I definitely wasn't expecting it," Franklin said.
"It's a pretty hard course, and Evy had done a really good run, I'm just really enjoying my paddling and wanted to go down and paddle like I knew I could and see what happened at the end.
"I had no idea about my time, I knew I'd lost a little bit at the top, but the time is really cool."
German world champion Elena Lilik finished third. An errant ponytail cost Olympic gold medalist Jessica Fox a place in the final, after her hair clipped a gate and cost her a two-second penalty in the semi-final.
In extreme kayak, Great Britain's Kimberley Woods and Sweden's Isak Ohrstrom both picked up their first ICF world cup gold medals, triumphing in a competition where some of the biggest names in the new Olympic event failed to progress past the early rounds.
Extreme kayak world champions and world cup winners were eliminated early, including Great Britain's Joe Clarke, Switzerland's Dimitri Marx, Germany's Stefan Hengst and Caroline Trompeter, Brazil's Ana Satila and Martina Wegman from the Netherlands.

RESULTS
WOMEN'S C1
FRANKLIN Mallory (GBR) 96.52 (0 seconds penalties)
LEIBFARTH Evy (USA) 98.27 (0)
LILIK Elena (GER) 101.51 (0)
MEN'S C1
SLAFKOVSKY Alexander (SVK) 86.27 (0)
BOZIC Luka (SLO) 86.44 (2)
SAVSEK Benjamin (SLO) 86.83 (2)
EXTREME KAYAK
WOMEN
WOODS Kimberley (GBR)
KUHNLE Corinna (AUT)
WOLFFHARDT Viktoria (AUT)
MEN
OHRSTROM Isak (SWE)
PRINDIS Vit (CZE)
DELASSUS Anatole (FRA)